Our Team Works Daily To Assure Continuity of Care
Eaton County Health and Rehabilitation Services (ECHRS) is dedicated to providing exceptional short-term rehabilitation, long-term healthcare,  and outpatient therapy programs through innovation, education and evidence-based practice.
ECHRS is a proud partner with local colleges in their Certified Nursing Assistant and other care-focused programs. Under the guidance and care of our professionals, students learn what it means to offer exceptional care and service. Learn more about our mission and core values.
ECHRS is dedicated to providing exceptional health care services through innovation, continuing education, and evidence based practice, while recognizing and encouraging the contributions of our employee, as we strive to meet the specialized health care needs of our communities.
To be a leader at the forefront of specialized health care initiatives, while meeting the changing needs of the Eaton County community and surrounding areas by listening to their needs and responding, through creating innovative services at a reasonable cost, with an exceptional standard in a positive, friendly, professional environment.
A Commitment to Excellence
In 2014 and 2019, Eaton Country Health and Rehabilitation Services received MPRO's Governor's Award of Excellence for achievements in reducing health care acquired conditions in nursing homes.
"This award demonstrates Michigan's deep commitment to providing high quality, safe and efficient health care," said Snyder. "By using proven, evidence-based practices, these organizations are making sure individuals get the right care at the right time."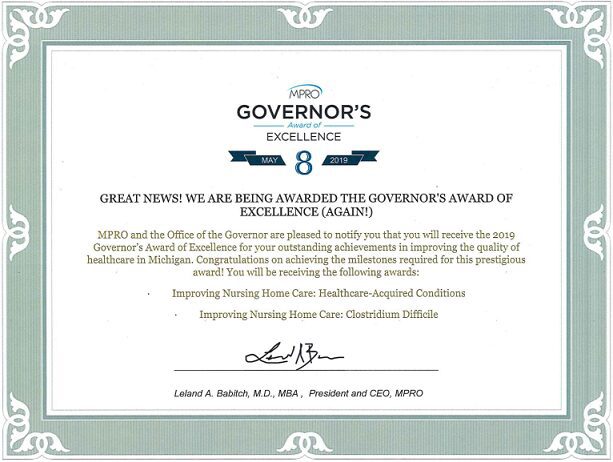 Certified Interact Champions
In honor of a commitment to ongoing quality care, members of ECHRS Staff earned Certified Interact Champions (CIC) titles. The CIC certification ensures that trained staff will improve upon the care of changes in conditions and reduce avoidable re-hospitalizations when safe and feasible.
What truly sets Eaton Gardens apart from other long-term care facilities is our devoted team of health care professionals. Our Leadership Team is a cross-functional, experienced group of individuals who work together to provide the highest quality care to our clients. Leadership Team members are on-duty every day (including weekends) to assure continuity of resident care.
Serve as the foundation for which the success of our Organization is determined. Together, we create the outcome of the effort we put forth. Together, we live the values that effect those we care for and TOGETHER. WE. ARE. ECHRS. CREATE IT.
Compassion
Respect 
Education 
Accountability 
Trust 
Excellence
Innovation
Team